Slots Magic Canada
The gambling industry is booming like never before. Although there have been various horror stories about large-scale scams that have allegedly occurred in casinos worldwide, cheating is no longer tolerated in today's online casinos. One secure casino, for example, is SlotsMagic. Here, customers can find numerous games from various categories and several proofs of the casino's security. Fraud or scams are not an issue here, so customers need not worry. Our review will also examine other aspects of this provider more closely.
Our Experience at a Glance
Our experiences with SlotsMagic are predominantly positive. Several factors contribute to this. For example, the range of games available is extensive. Casino enthusiasts can find everything their hearts desire, from slot machines (online slots here), table and card games to a live casino – SlotsMagic has it all. However, these are not the only points that make online casinos convincing. Integrating a mobile offering that customers can access also speaks for the provider. The games that can be played on mobile devices are marked separately in the slots area. The slots themselves come from well-known manufacturers. But that's not all. New players can also enjoy a welcome offer that includes additional money and free spins for specific slots. The provider also scores points in payment methods, with several options available. Support and service meet expectations, and the casino is properly regulated. A valid gambling license from Malta, issued by the Malta Gaming Authority (MGA), is in place.
| | |
| --- | --- |
| Company: | Skill On Net PT Ltd |
| Address: | 7A, The Podium, St Mark Street, St Julians, STJ09, Malta |
| Registration number: | – |
| Regulation/License: | MGA/CRP/171/2009/03 |
| Phone: | +1-866-531-2600 |
| Email: | [email protected] |
| Live Chat: | Available |
SlotsMagic Check: Scam or Legit?
The question of legitimacy is omnipresent in the gambling industry. This is no wonder since hardly any other industry is scrutinized as closely as gambling. In the case of SlotsMagic, however, customers need not worry, as the provider is properly licensed and thus absolutely trustworthy. The license comes from the MGA, the Malta Gaming Authority. As one of the largest gambling authorities, customers can confidently open an account here. Additional indicators include payment methods. Since many big names are involved, it can be assumed that these companies only offer their services to beyond-reproach providers. Otherwise, their reputation would be significantly damaged.
Similarly, the games also come from reputable manufacturers. These manufacturers certainly do not want to be associated with a dishonest and unreliable provider. Customers can look at the gambling scene with peace of mind. The reason: the so-called "black sheep" are now rare to non-existent. And if a provider does play unfairly, the news would spread rapidly. The lifespan of the relevant casino would thus be extremely limited.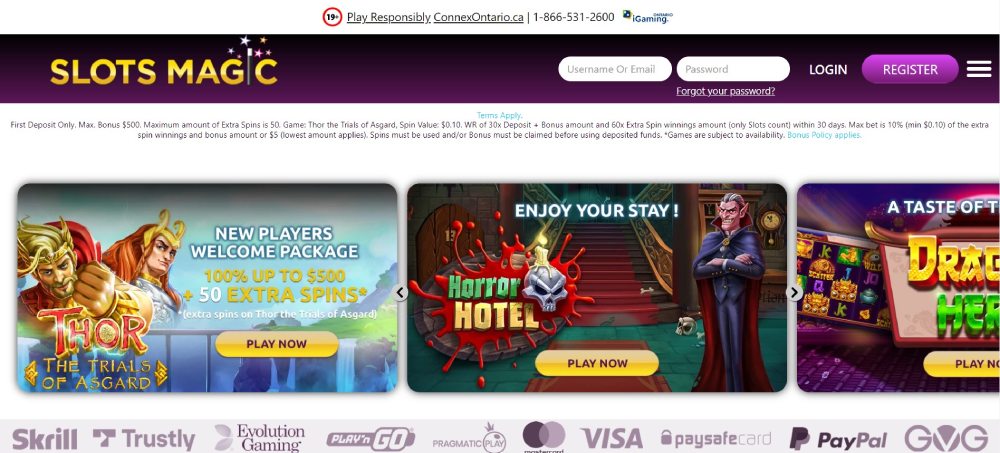 Offer
The offering of an online casino should be diverse. After all, regardless of licenses and other factors, it is primarily the range of games that attract customers. At SlotsMagic, players will find this diversity, as games are available in several categories.
Slot Machines
Slot machines have become an absolute constant in online casinos. They have a long tradition beyond the digital world, as players in conventional casinos enjoy the so-called "one-armed bandits." However, online slots go a step further. At SlotsMagic, there are a variety of slot machines featuring breathtaking graphics, great animations, and straightforward gameplay. Moreover, the list of manufacturers and their games is quite impressive. For example, NetEnt is represented by Guns 'n Roses and Jimi Hendrix, among others – two slots sure to delight music fans. But fans of slots from manufacturers like Microgaming, Bally Wulff, and NextGen will also get their money's worth. Thunderstruck, Break Away, and Avalon are slots whose names will surely be familiar to slot machine enthusiasts. And when it comes to slot machines, one must not forget the jackpots that promise hefty cash prizes in addition to the regular reel winnings. Superman, Wonderwoman, Mega Moolah, and Mega Joker are games that meet these criteria.
Card and Table Games
They are also a staple of the casino scene: card and table games. Games like Blackjack, Poker, or Roulette have been, and continue to be, frequently featured in many Hollywood movies. At SlotsMagic, customers can access some of these games. For instance, players can try their luck with multiple variants of the mentioned games. Players can find the right variant for themselves, whether it's Blackjack, Poker, or Roulette. For example, there are some exotic poker games, while the highly popular Vegas game Craps is also included in the list.
Live Casino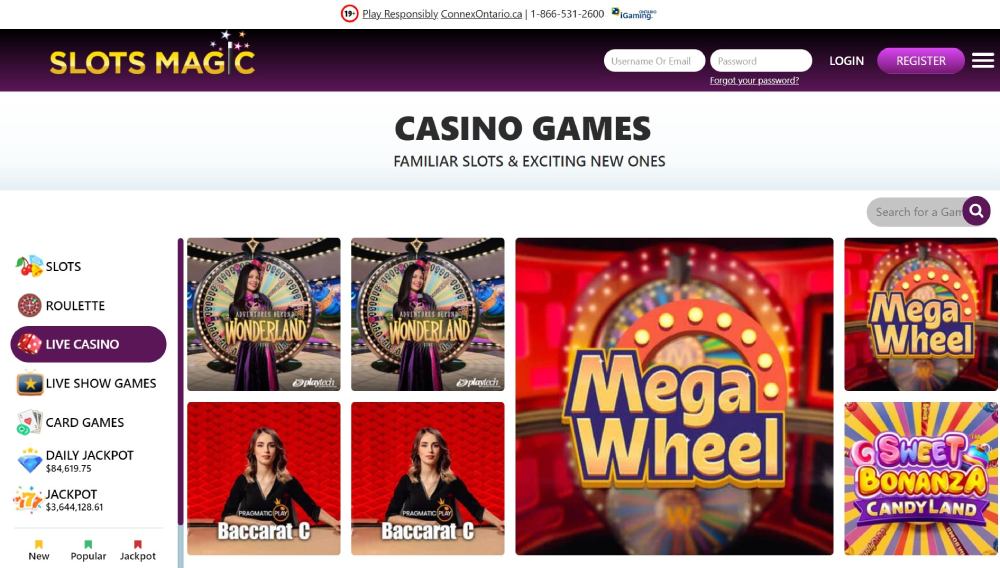 Slots Magic also features a live casino. A live offering adds an extra touch of excitement for players. Unlike computer-generated games, real people serve as dealers and croupiers in a live casino. They handle the cards, shuffle them, or throw the ball into the roulette wheel. Speaking of Roulette: alongside Baccarat and Blackjack, Roulette is one of the games offered as a live variant at SlotsMagic. Although the computer-generated versions of these games are also completely secure, a live casino provides an incomparable atmosphere typically only found in a real casino. The sounds, the ability to follow every move of the dealer or croupier, and the communication – all these aspects make a live offering so special. Communication is facilitated, for example, through chat, in which players, dealers, and croupiers can participate. So, if you're looking for the perfect mix of a unique atmosphere and the flexibility of an online casino, SlotsMagic offers exactly what you're looking for.
New Customer Bonus
A bonus is as much a part of the casino scene as the numerous games. A bonus is especially characterized by being given particularly frequently to new customers who have just opened an account. Either it is a bonus reflected in additional credit for playing or free spins for the slots. Now and then, there can be a combination of both elements.
This strategy is used at SlotsMagic. The customer can have their deposits upgraded through the bonus and receive additional free spins for the machines. In such a case, it is called a welcome package. Customers can get up to $500 in bonus money and 50 free spins. How much bonus money they ultimately get depends, not least on the amount they deposit. The first deposit is rewarded with 100%, with the maximum bonus amount for the first deposit being $500. In addition, there are also the aforementioned free spins with the deposit.
| | |
| --- | --- |
| Deposit bonus: | 100% up to $500 + 50 free spins |
| Bonus conditions: | 30 times turnover |
| Validity: | – |
| Further bonuses: | Free Spins |
A bonus remains a bonus. This means you cannot simply claim it and withdraw the money immediately. There are always certain wagering requirements that must be met here. Only when these have been met is the bonus considered cleared. The customer must wager the bonus amount 30 times before making such a withdrawal. In addition, not all games are included in the wagering requirements. Since the welcome package is considered a standard bonus according to the bonus terms and conditions, its conditions apply. And these provide that only slots and scratch cards are counted for the turnover. All other games, like Blackjack and Co. are left behind. In addition, not all payment methods are taken into account. For example, those who fill their gaming account with Neteller or Skrill forfeit their right to a bonus. The only exception is the first deposit.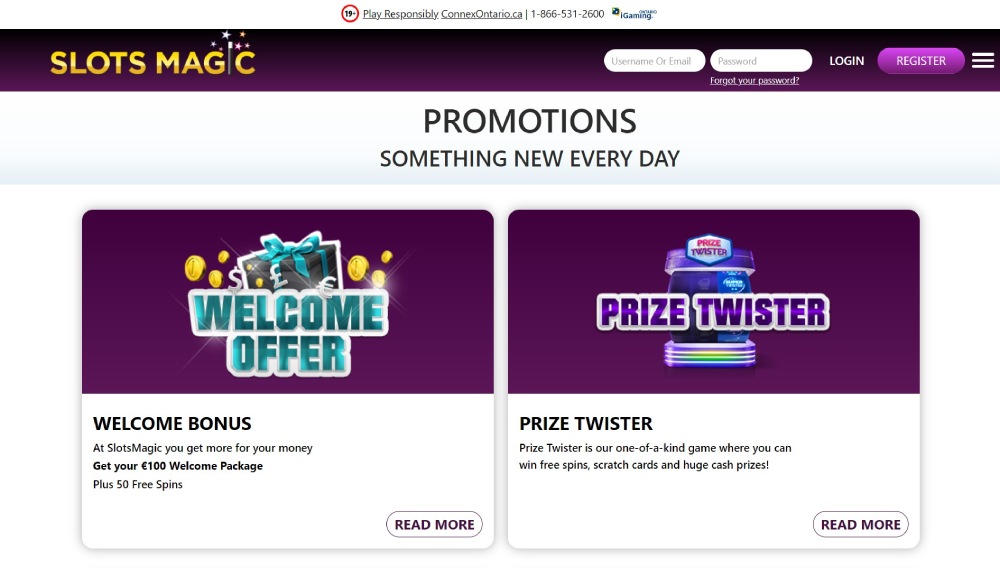 Deposit and Withdrawal
A very important element in evaluating an online casino is the number of payment methods it has to offer. Nowadays, it is no longer enough to offer only a credit card as a means of payment, even if this is still one of the most popular means of payment on the Internet. The more payment methods a provider can present, the more customers it will be able to win. Variety is the key here.
| | | | | |
| --- | --- | --- | --- | --- |
| Payment Method | Minimal Deposit | Fee | Processing Time | Deposit Limits |
| Visa | $10 | 2.5% | Instant | $99999 |
| MasterCard | $10 | 2.5% | Instant | $99999 |
| MuchBetter | $10 | No Fee | Instant | $99999 |
| Interac | $10 | No Fee | Instant | $99999 |
| Paysafecard | $10 | 5% | Instant | $99999 |
This variety is exactly what you'll find at SlotsMagic. The platform offers a range of payment methods that make transferring real money to your gaming account a breeze. Of course, credit cards are included, as they have become a standard in the online world. However, customers who don't have a credit card or simply don't want to use one won't have to sacrifice convenience when depositing. Digital wallets, also known as e-wallets, are currently popular. Money transfers with these wallets are extremely easy. MuchBetter and Interac are well-known providers in this industry. Customers must have an account with the respective provider to use digital wallets. Bank transfers, on the other hand, are suitable for players who want to work with bank data. For this to work, customers must be enabled for online banking with their home bank. A valid TAN and access data are required for a correct transaction. For fans of prepaid credit, there is also a solution: the Paysafecard. You can buy these in various denominations and transfer the money to your gaming account all at once or in increments. Important: Not all payment methods listed on the website are available for Canadian customers.
| | | | | |
| --- | --- | --- | --- | --- |
| Payment Method | Minimal Withdrawal | Fee | Withdrawal Time | Withdrawal Limits |
| Visa | $20 | No Fee | 3-5 days | $50000 |
| MasterCard | $20 | No Fee | 3-5 days | $50000 |
| MuchBetter | $20 | No Fee | 12-36 hours | $50000 |
| Interac | $20 | No Fee | 12-36 hours | $50000 |
| Bank Transfer | $20 | No Fee | 5-7 days | $50000 |
If you want to know more about fees or which options are suitable for withdrawals, click on the logos of the respective payment methods. There, you'll find additional information, including instructions on how to open an account.
Security and Regulation
Regarding security and regulation, one can comfortably link this to reliability. And here, too, the answer is that customers don't need to fear scams or fraud. That's because SlotsMagic has a valid gambling license from Malta. The issuing authority is the MGA, the Malta Gaming Authority. This is one of the most well-known authorities in the industry. Anyone who has a license from this authority is considered reputable. However, providers must work hard to obtain this license. A series of conditions must be met so the authority can issue the license in good conscience.
One of these points is fairness in the games themselves. The chances of obtaining a license are slim if a player is at a disadvantage beyond the casino's advantage. Providers use special software that functions like a random number generator to ensure equal opportunities. The authorities thoroughly examine this. If it turns out that things are not being handled fairly, this can be disastrous for the provider. The same applies if the security of the data cannot be guaranteed. Customers enter data during registration, and every time they log in. Payment information is also transmitted here. During data transmission to the server, the data must be encrypted to prevent it from being read by third parties. This point is also very important to the authorities.

Support and Customer Service
Support and customer service are other hallmarks of any provider. Customers want to be cared for and receive help if a problem arises. The support from SlotsMagic is quite competitive in this regard. For example, there is the option to contact the service via email. An address is available in the corresponding menu on the website. There is also telephone customer service. It even has a Canadian phone number available in the service area. The provider also scores points with its live chat. And if personal contact with a service employee is not necessary, the FAQ section can often help. Here, multiple questions and their corresponding answers are sorted by category.
User-friendliness of the website
The site's user-friendliness also ranks at the top of the table, although it has a minor flaw. First of all, it should be said that browsing the site does not pose any problems for users. All important areas are easily accessible and structured. The game selection and the list of manufacturers represented with their games are particularly convincing. However, there is a minor issue here. When you hover over a game with the mouse, a button appears, suggesting you can simply try out the game. However, a popup window appears as soon as you click on it, asking you to enter your login details. It's a shame! Many other casinos also allow curious visitors to try out the games.
Mobile App
Playing on the go with an app has become an important aspect. Customers do not always want to play from their own homes using a desktop PC or laptop but also want to enjoy gaming on the go. There is no dedicated mobile app for smartphones or tablets here. However, the experience shows that mobile gaming is still possible. As mentioned earlier, there are small mobile phone icons on the preview images of the slots, indicating that the game can also be played via the mobile site. Customers do not need to download separate software or worry about updates. Additionally, a mobile site has another advantage: it works independently of the operating system used on the mobile device.
Conclusion: Excellent provider with a great offer
Our review has shown that customers can enjoy a vast range of games and security. A valid gambling license from Malta makes fraud or scams impossible. The offer is impressive, including various slot machines, classic cards, table games, and a live casino. The latter adds even more excitement and thrills. There are also other points that the casino can score with, such as a wide selection of payment methods and excellent customer service, including a live chat. The bonus is fair and attractive, offering additional funds and free spins for selected slots. Mobile gaming is also possible at SlotsMagic. The site is easy to navigate; the only minor improvement would be integrating a free game mode. However, this does not detract from the overall excellent impression of the casino.