Conquestador Casino Bonus Codes
If you're looking for a great casino to play in Canada, this site is a solid option. It features a massive library of games. On top of that, the Conquestador sign up bonus, and Conquestador casino coupon codes are also great deals. Conquestador rewards customers and loyal users with various other sign up offers and reward codes if you know where to look. Let's look at Conquestador bonus terms and Conquestador promo codes now!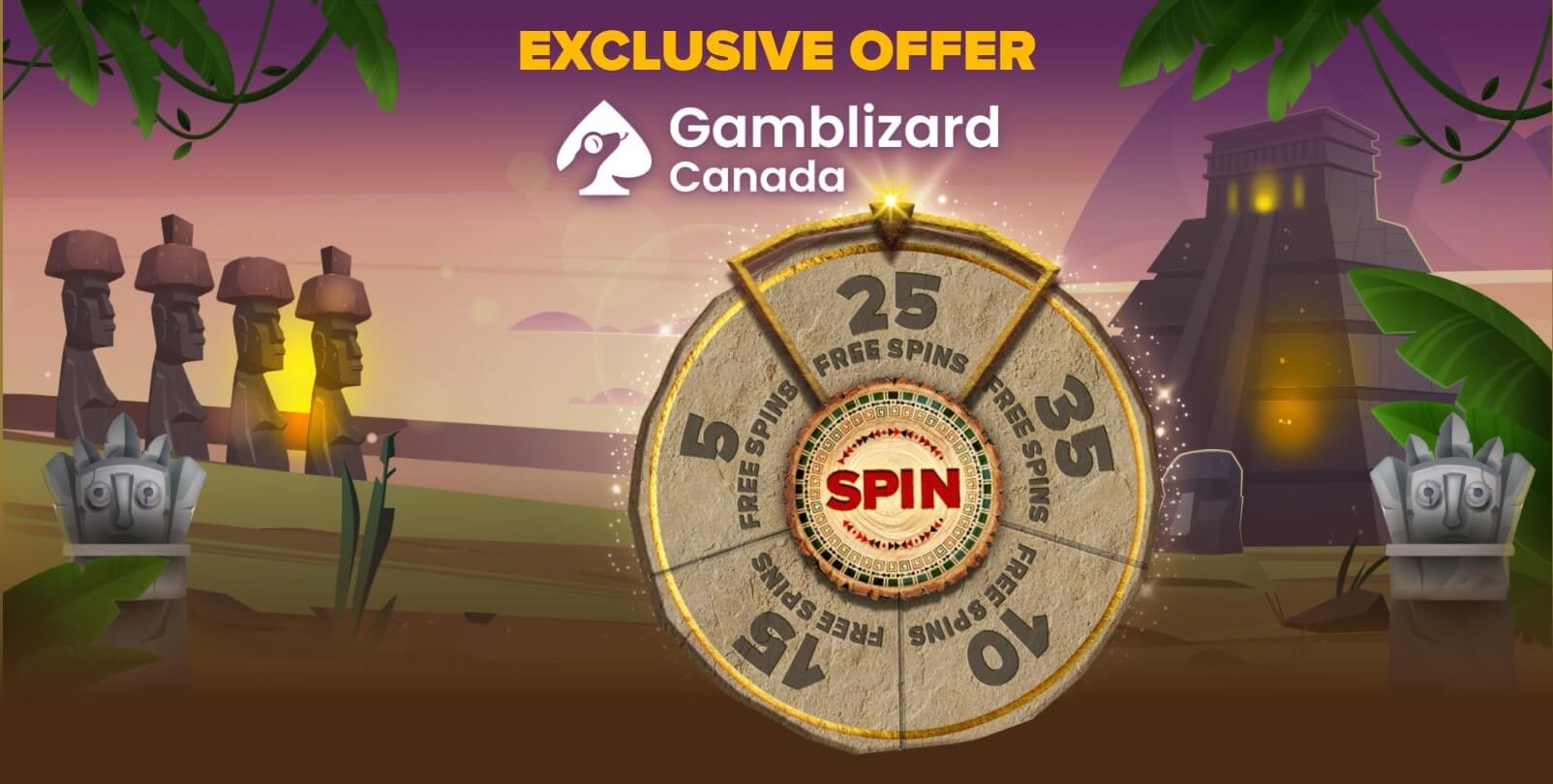 Why should you dig into Conquestador Online Casino?
This site features slots, table games, jackpots, and various other types of games available! If you have a Conquestador account, expect to see great offers constantly on different types of games from different providers and developers!
If you're a fan of providers like Netent, Red Tiger Gaming, Microgaming, Softbet, or other huge providers like this, Conquestador casino Canada has great titles available from all of these providers. Because of the site's size and its diversity in content, you won't struggle to find the perfect game for you when perusing through the library of available games.
With over 2,000 games in Conquestador casino, it's more likely the site has the game you need than it doesn't: so if you have a favorite title, rest assured that you'll be able to find a great experience with Conquestador! This doesn't even go into bonuses, loyalty programs, and other important parts of choosing a casino: but Conquestador casino has good options in these areas as well.
It doesn't matter what kind of game you want to play: Conquestador has them all!

Conquestador Casino Terms and Conditions
Conquestador's terms and conditions are standard, similar to other online casinos in the industry. While their new customer offer is great, their rules are run-of-the-mill. You must create a Conquestador casino account and give them information like your email, address, date of birth, and so on.
To keep it simple and list the terms in an easy to understand way, review this list:
You must be older than 18, in Canada, and keep in mind that all welcome and sign-up bonuses only apply for new members or customers.
Minimum deposits are at least C$10, with the minimum withdrawal being C$20. The maximum amounts for these are about $C5000 for most payment methods.
Terms and conditions also cover exclusion periods for your account, as well as responsible and safe gambling. You can set deposit limits on your account.
You may cancel bonuses any time through the promotions page before wagering requirements are met.
The terms and conditions also explain minimum bet size, various other rules, privacy information, and so on.
The site also explains the rules behind cheating, bots, account terminations, and various other information. To read the information in full, click here. Suffice to say, their views on these are very standard and do not deviate from the norm.
Payments and Withdrawals Policy
Conquestador casino Canada requires that users make a minimum deposit of C$10 when depositing, and a withdrawal of at least C$20 when withdrawing. The site expects you to verify your information when withdrawing, especially large amounts. Your ID may be needed. Your winnings are securely kept with Conquestador until they are withdrawn. The Conquestador casino withdraw process is safe and straightforward.
How Long Does Conquestador Casino Deposit Take?
| | | | | |
| --- | --- | --- | --- | --- |
| Payment Method | Minimal Deposit | Fee | Processing Time | Deposit Limits |
| Debit Card | C$20 | No Fee | 2-3 business days | C$5000 |
| Visa | C$20 | No Fee | 2-3 business days | C$5000 |
| MasterCard | C$20 | No Fee | 2-3 business days | C$5000 |
| Bank Transfer | C$20 | No Fee | 2-3 business days | C$5000 |
| Neteller | C$20 | No Fee | 2-3 business days | C$5000 |
| Skrill | C$20 | No Fee | 2-3 business days | C$5000 |
How Long Does Conquestador Casino Withdrawal Take?
| | | | | |
| --- | --- | --- | --- | --- |
| Payment Method | Minimal withdrawal | Fee | Withdrawal Time | Withdrawal Limits |
| Mastercard | C$10 | No Fee | Up to 24 hours | C$5000 |
| Neteller | C$10 | No Fee | Up to 24 hours | C$5000 |
| Skrill | C$10 | No Fee | Up to 24 hours | C$5000 |
| Visa | C$10 | No Fee | Up to 24 hours | C$5000 |
| Paysafecard | C$10 | No Fee | Up to 24 hours | C$5000 |
| Trustly | C$10 | No Fee | Up to 24 hours | C$5000 |
The speed of the withdrawal and deposit are very industry-standard or faster: deposits are very quick, and withdrawals usually occur in about two days.
Keep in mind that these speeds are dependent on each method: most are faster than 2-3 business days, but that's generally the longest that it takes. Conquestador casino bonus funds are not subject to immediate withdrawal unless all terms or wagering have been completed.
Conquestador Licensing & Regulation
Conquestador casino is licensed and registered to operate under the UK Gambling Commission, so you don't need to worry about any issues with a shady site here. Many online gambling websites are not properly registered under the correct government body or are illegal, or have other issues altogether. This site doesn't have that problem.
With any casino, check and make sure and look for the marking of a place like the UK Gambling Commission, Malta Gambling Authority, or other similar organization to make sure the casino is licensed and registered for business. That mark at the bottom is what you're trying to see.
The MGA license for Conquestador is under MGA'S license number MGA/B2C/818/2020, with the account number C 84149.
Screenshot for example:
Conquestador Sign Up Process
If you're looking to get a Conquestador casino welcome bonus or Conquestador voucher codes, make sure you register the right way and complete the offer as they ask you to. Registering is simple and should only take a short amount of time. The Conquestador log in process is easy and simple.
You must be aware of the Terms and Conditions, be over 18, be a resident of Canada, and give them all the information they require, such as date of birth, address, email, and various other information. Additional verification may be required.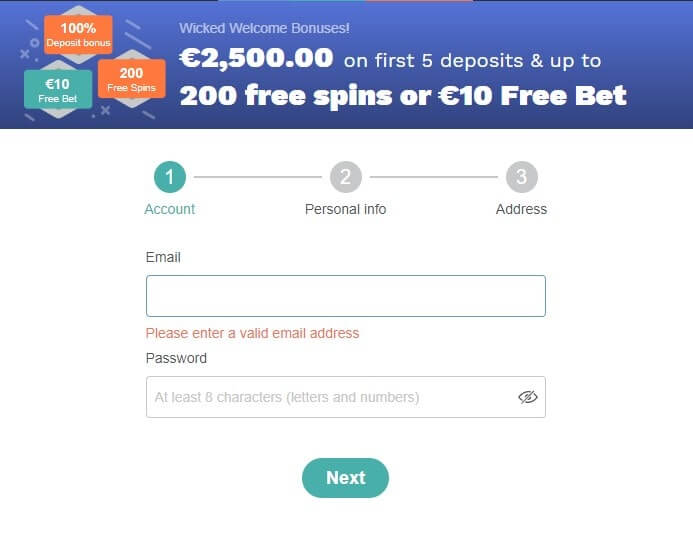 Make certain that you have all of your information readily available when signing up for Conquestador casino. It will make the process much simpler and speed it up for you while you're creating your account. It's possible you could be asked to submit other information, and if you don't have it, that could lengthen the process.
So, to be safe:
Have all of your information ready and available
Be over 18, a resident of Canada, and comply with all other aspects of the terms and conditions
Make sure to use bonus codes or anything else during the process of registration when requested to make sure you can get your bonus with your first deposit.
Fill the information out step-by-step, providing anything asked for, and register/complete your account by the end to begin playing at Conquestador casino.
Conquestador has a number of different bonuses and promotions to dig into.
For example, one popular bonus is for first deposits, where a user can deposit C$10 and use a Conquestador bonus code of "35fsplay" to get 35 free spins on the slot Book of the Dead, which is a very popular slot on Conquestador online casino right now. 20x wagering requirement. You must also verify your phone.
One of the best opening offers for Conquestador is to receive C$200 with 200 bonus rounds for any game. This gives you an additional C$200 on your account provided that you register and deposit at least C$20 and use Conquestador's opening offer to claim this bonus. 30x wagering requirement.


A very good matching bonus for sign-up with Conquestador casino revolves around the Midas Golden Touch slot. The player can receive up to a 100% match bonus (C$2500 max) with 200 free spins. 30x wagering requirement with 20x cap on winnings.
Many of the other bonuses and promotions are small variants on these: the wagering requirements, deposit requirements, and other rules to receive the bonuses remain almost identical.
Most of the bonuses and promotions are fairly simple to activate. Keep in mind that time also plays a factor: many of these are either based on a time-limited code or require you to wager a certain amount of money within a certain time period.
For a brief guide of how to activate the bonuses in most scenarios, please do the following:
Make certain that you register your account with Conquestador casino correctly and that everything is set up and prepared.
You must make certain to fulfill the minimum deposit requirements for the bonus you want. In most cases, you need to deposit at least C$10-20. Check the individual bonus to be sure.
You also have to satisfy the wagering requirement for the bonus as well.
All of the above must be done within the time limit that the bonus or promotion stipulates.
Finally, once all of that has been accomplished, you'll be able to collect the bonus or promotion and either use it (such as free spins or funds to play with) or cash it out (in the event of real-life money that you want to take out of your account).
VIP and Loyalty Programs at Conquestador Casino for Loyal Users
| LEVELS | % REBATE | AWARD FREQUENCY | % CASINO | % LIVE DEALER | WAGERING REQUIREMENT | AWARD FREQUENCY | DEPOSIT REQUIREMENT |
| --- | --- | --- | --- | --- | --- | --- | --- |
| Level 1 | 0.05% | Once per month | 10% | 5% | x6 | Once per month | 100% of cashback amount |
| Level 2 | 0.1% | Once per month | 10% | 5% | x5 | Once per month | 100% of cashback amount |
| Level 3 | 0.15% | Once per week | 10% | 6% | x4 | Once per month | 50% of cashback amount |
| Level 4 | 0.17% | Once per day | 12% | 7% | x3 | Once per month | 50% of cashback amount |
| Level 5 | 0.2% | Anytime | 14% | 8% | x2 | Once per 2 weeks | 25% of cashback amount |
| Level 6 | 0.22% | Anytime | 16% | 9% | x1 | Once per 2 weeks | 25% of cashback amount |
| Level 7 | 0.25% | Anytime | 20% | 10% | x0 | Once per 2 weeks | No deposit |
The casino features a loyalty program based on levels. The full text of this can be seen here: levels are earned by how much you wager, and the perks given by levels can assist you with getting better deals on wagering.
Just as an example, Level 1 features a x6 wagering requirement, which goes to 0 at Level 7. % Rebates that scale upwards for the player are also available here.
As you continue to wager money and play games, your loyalty points with Conquestador online casino will increase. This has the benefit of creating a situation where your money goes much further with the casino in the long-run.
By the time you reach Level 7 for the programs, you'll get a rebate that can be awarded any time, you get discounts on both casino games and live dealer games, and your wagering requirement is reduced to 0. Your deposit requirement is also removed.
Variety of Games for Download and Play
Conquestador online casino offers a variety of games for both new and older players. Slots, 3-reels, 5-reels, 7-reels, table games, jackpots, and various other types of games are available. In total, the site offers over 2,000 online slots and casino games.
Two of the most popular current games are Dynamite Riches Megaways and Gonzo's Quest. Live casino games are also available. Blackjack is on here, as well as craps, poker, and tons of other titles. Different variations on table games are available, like Texas Hold 'Em and Blackjack VIP.
Other popular slots include games like Midas Coins, Legacy of Egypt, Carnival Queen, Temple Tumble Megaways, and various others.
As an example, in Midas Coins, a popular Quickspin slot, you play as the titular king creating gold and trying to win wealth. Another title, like Legacy of Egypt by Play 'n Go is based on Egyptian history and mythology. You can download games from Conquestador if you like that method of playing better.
Some of the most popular game providers at Conquestador are providers like Netent, Softbet, MicroGaming, Red Tiger Gaming, Playson, Quickspin, and various others.

Progressive Jackpots at Conquestador
Conquestador casino has progressive jackpots. This is listed under the 'jackpots' section of their site. Right now, many titles have millions of euros waiting to be claimed in a Progressive jackpot! If you value the chance to win big, progressive jackpots really offer the chance to do that.
Live information can be seen here as to what titles have jackpots available. Right now, some of the biggest are Mega Moolah and Book of Atem, but that can change at any moment. Check that page if you want to see the most up-to-date jackpot and their highest figures.
Whenever people play the slot, the jackpot goes up until someone inevitably gets lucky enough to collect it. Some games have far smaller progressive jackpots than others: for example, some are as low as $C5000-10,000, and others go up into the millions. So the number starts small and can grow larger if it isn't claimed.
A few more examples of the options on their progressive jackpot page include Lions of Gold, Grann Spin, and Major Millions. All slots listed on this page offer a progressive jackpot as a feature.

Is Free Play Available?
Many games can be played for free or as a demo on Conquestador. Check each title on an individual basis if curious.
If you go for a no deposit bonus code or try to get Conquestador free spins, you can use those for free play as well. Keep in mind there are many different Conquestador casino slots to play or download, so you have a lot of options to play for free.
Important RTP Information
Most of the slots at Conquestador online casino feature high RTP. For example, one of their most popular games right now, Gonzo's Quest, features RTP at about 96%. Other titles have similar numbers.
As a few more examples, Big Bass Bonanza, another popular game there, has an RTP of 96.71%. Diamond Link Mighty Elephant has an RTP of 95%, while Midas Coins has an RTP of 96.02%.
All of these are popular slots on Conquestador.
As a general rule, you should look for slots with this level of RTP or higher – there's a much better chance for you to be able to win money as a consumer, so keep that in mind when reviewing websites and slots.
Customer Support
Conquestador customer support is done via live-chat and email. A direct phone number is not listed on the website. The customer service for Conquestador is very good, and most customers seem satisfied with the service that they receive.
If you're a fan of direct over-the-phone customer service, however, Conquestador casino might not have that for you, as it seems the site is more focused on live chat and email customer service. Keep this in mind when choosing a casino.
Mobile Experience
The Conquestador casino app is on Apple and functions well. It is also available for Android. It supports higher resolutions.
The app functions well and is easy to play games on and deposit/withdraw money.
The UI in specific is great with almost no problems: navigating through the app and the website on mobile is a breeze, and playing games is not the cause of any kind of hassle. You can even get bonuses and promotions on the app as well.
Compared to some other casinos, Conquistador has a much better-than-average mobile experience.
Conquestador's site functions well on mobile, even without using the app. The website loads correctly and there aren't too many issues with the resolution or loading of pages when viewing it on a phone or a tablet.